BLOG
9月7日にLAでコンサートをします 〜 Concert in LA on Sept. 7th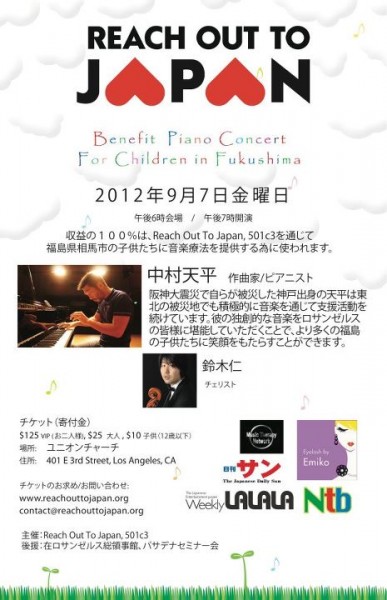 東北にピアノと音楽を届けるRising Sunという活動、それとは別に
僕の親友もReach out to Japanという音楽療法によって被災地の人達を支援する活動を行なっています。
今回のチャリティーコンサートはそこの団体の主催によるコンサートです。
この団体の理念やシステムが素晴らしい!から僕は支援するわけではなくて、
オーガナイザーのTami Kanoさんの人間性がとても素晴らしいから、
この人が支援する事なら僕も支援してみたいと心から強く思います。
どんなに素敵な理念やシステムを掲げても動かす人が悪ければうまくいかない。最後には人ですよ。
そうやって人と人の温かい心を繋ぐコンサートにしたいと思っています。
ベネフィットピアノコンサート〜天平、ピアニスト/作曲家〜
9月7日(金曜日)午後6時開場 午後7時開演
This concert in LA is sponsored by the project "Reach out to Japan" that a good friend of mine is leading in order to support people of the areas struck by the Tsunami through music therapy (which is not related to the Rising Sun project, meant to bring piano and music in the same area). I decided to support this project not because it has a great philosophy and has created a great system. NO. I decided to support it because the organizer, Tami Kano, is a great person. If a great philosophy and great system are created by an evil person, everything will get to its end sooner or later. Because what really matters is people. And Tami Kano is a great person, who makes me wish to cooperate from the bottom of my heart.
Benefit piano concert
Sept. 7th (fri), doors open at 6 pm, concert starts at 7 pm.